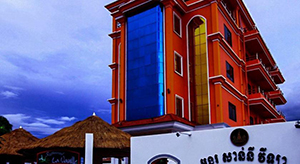 Angkor Sunny Villa is a family run hotel with 30 rooms in which you can choose between Superior, Deluxe and Premier rooms. All of the rooms have twin or double beds, aircon, hot showers, "mini" refrigerator, WIFI internet access, bureau for clothes storage, slippers, towels and toiletries, and cable-tv equipped televisions.
All guests receive a complimentary, complete breakfast daily, complimentary bottled drinking water, unlimited use of our saltwater pool, and service from our poolside bar. Room service from our well-known restaurant is also available.
Prices from $50 for double / $40 for single.